Cardano Dapp Sneak Peek
As many of us know, Cardano enabled smart contract capability six days ago, on September 12th 2021 and there are already exciting Dapps being built on Its Blockchain. In this article, we will take a look at some of the Dapps that are currently being developed on Cardano. We will also discuss which Killer Whale products are best suited to capitalize on these advantageous decentralized applications!
Ardana
Ardana will be the first Cardano Dapp that will make it possible to mint a US Stablecoin which will be called SUSD on the Cardano network, using ADA as its backing currency. Ardana will allow users to mint SUSD using staked ADA tokens, which will likely create new use cases while unlocking a large amount of liquidity. Ardana also plans on making stablecoins that are pegged to other currencies, which users will be able to trade on the DanaSwap DEX.
SundaeSwap
As you may have guessed from the name, SundaeSwap aims to be the Cardano blockchain counterpart to the Ethereum Dapps Uniswap and PancakeSwap. SundaeSwap is aiming to be Cardano's Leading DEX, as well as a hub for future DEX offerings on Cardano. Unlike many other DEXes, SundaeSwap's frontend will be hosted on the Interplanetary File System AKA IPFS, making it 100% decentralized by nature.
The SundaeSwap token – SUNDAE – will be initially distributed amongst anyone who has staked ADA in the initial SundaeSwap staking pool. The SUNDAE token supply will be distributed as such: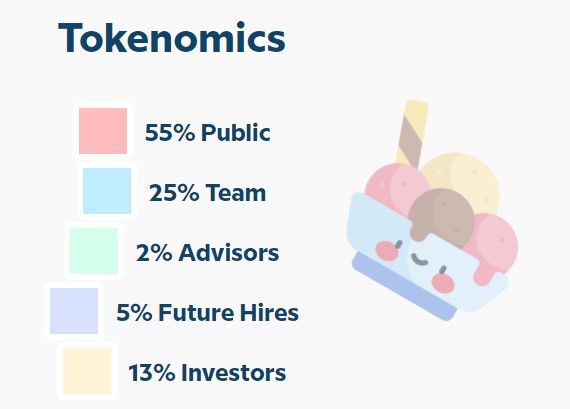 Empowa
Empowa describes itself as the first ever Real-Fi project in the world, which aims to increase the amount of affordable housing in Africa, beginning with the country of Mozambique. In layman's terms, Empowa aims to build 50 million homes in Mozambique, Africa, by becoming a decentralized property developer. The houses will be built using the Empowa token, EMP. Users who contribute to the project by buying the EMP token will be secured a cut of the future rental income from the properties built by the Empowa project. Empowa truly deserves its own article, as the innerworkings and preliminary funding are highly complex. Empowa is a good example of how cryptocurrency can be effectively used to aid the developing world and falls right in line with many of the adoption goals of Cardano.
Meld
Finally, we have Meld. Meld Is a lending Dapp akin to Aave on the Ethereum network, that will allow its users to lend and borrow tokens on Cardano. Unlike other lending protocols, Meld supports the lending and borrowing of fiat currencies as well as cryptocurrencies. Meld users will be able to access all of the features of Meld via the Meld mobile app, which is still in development. One of the most exciting features of the Meld project is that it will eventually even deploy its own physical debit card. The meld card will function similarly to the Crypto.com debit card with the additional feature of being able to directly spend crypto in addition to fiat currencies. In time, there may even be additional features added to the Meld card.
This is a diagram from the Meld development team, detailing exactly how the lending platform will operate:
This is a diagram from the Meld development team, detailing the tokenomics of the Meld token, MELD:
Which Killer Whale Products Capitalize on Cardano ADA?
Although there are a multitude of Killer Whale products that capitalize on the price action of Cardano ADA, Killer Whale Large Cap Sector Strategy is a great choice! Killer Whale Ultimate Strategy is a great choice as well, for those who are looking to gain more of Cardano, as well as any other coin with great potential!
Killer Whale Crypto
CHANGE THE WAY YOU TRADE